Industrial or Vocational Training
Display:
Autism Spectrum Disorders: From Theory to Practice
Author:

Hall, Laura J.

Publisher:

Pearson - Pearson Education (US)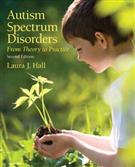 Written by an established author, the second edition of Autism Spectrum Disorders: From Theory to Practice, helps educators implement the best evidence-based practices in their classroom, community and home. With a solid emphasis on research, the text offers a practical approach to teaching students with Autism Spectrum Disorders, providing a step-by-step guide for assessment and progress monitoring, and outlining a variety of evidence-based practices organized by major theoretical perspective. Hall devotes a complete chapter to cultural and linguistic diversity and addresses ASD across the lifespan, including preschool, school-age and transitions. Updated with the latest research and strategies, this edition includes a new chapter on transitions, references to DSM-v, and captivating In Their Words accounts of what it is like to live with ASD.
Find similar publications here: