The Free Entitlement to Education for Three and Four Year Olds
HC 1893, Eighty-Sixth Report of Session 2010-12 - Report, Together with Formal Minutes, Oral and Written Evidence
Author:

House of Commons - Committee of Public Accounts

Publisher:

TSO (The Stationery Office)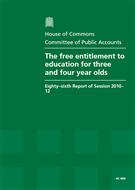 The Department for Education provides funding for local authorities to pay for three and four year olds to receive their entitlement to 15 hours of free education each week. 'The Free Entitlement to Education for Three and Four Year Olds (HC 1893)' assesses whether this system is delivering value for money.
In 2011-12 the Department's estimated funding for the entitlement of £1.9 billion provided over 800,000 three and four year olds with access to free education; an estimated annual allocation of approximately £2,300 per child.
While the Department and local authorities have focused on ensuring places for children are available there has been less attention on how value can be secured and improved. Although there is evidence of educational improvement at age five, the evidence that this is sustained is questionable.
The Department needs to do more to understand how educational benefits can be lasting. There is not enough good information for parents to make informed choices and there is concern at reports that some families are still not receiving the entitlement free of charge.
It is important that all parents know what the entitlement is and that it should be provided completely free. Early years education has the greatest benefit for children from disadvantaged backgrounds and yet these children have the lowest levels of take-up within deprived areas, where the lowest levels of high quality services are available.
The Department needs to identify and share good practice from those local authorities which are having the most success.

Find similar publications here: