Report on Fuel Poverty
NIA 36/11-15, Second Report of Session 2011-15, Together with the Minutes of Proceedings
Author:

Northern Ireland Assembly: Committee for Social Development

Publisher:

TSO (The Stationery Office)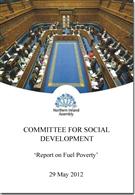 The factors that contribute to fuel poverty have been widely reported, but there has been little progress to prevent or reduce fuel poverty in Northern Ireland; 'Report on Fuel Poverty: (NIA 36/11-15)' calls for statutory committees, government departments, the private sector and non-governmental organisations (NGOs) to work together to prevent and reduce fuel poverty.
In summary the Committee advise the following:
innovative thinking is required to bridge the gap between possible solutions and the implementation of those solutions;

a long-term strategic policy approach is required; and

'quick fixes', while necessary to address short-term issues, are not the answer.
The Committee agreed that the solutions proposed at their fuel poverty event, will require further and urgent consideration; strongly advocating a strategic approach to dealing with fuel poverty based on a time-bound, 'thematic action group' (TAG) approach.
While further discussions with the Department and stakeholders are necessary the Committee envisages a key role for TAGs to work alongside the Cross Sectoral Fuel Poverty Partnership, recently established by the Department for Social Development.

Find similar publications here: