Child Maintenance and Enforcement Commission: Cost Reductions
HC 1874, Eighty-third Report of Session 2010-12 - Report, Together with Formal Minutes, Oral and Written Evidence
Author:

House of Commons - Committee of Public Accounts

Publisher:

TSO (The Stationery Office)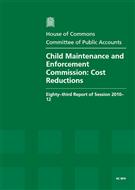 Around half of all children in the UK from separated families are being brought up in poverty. In 2010-11 the Child Maintenance and Enforcement Commission collected and transferred £1.1 billion to parents caring for more than 880,000 children, but recurring challenges remain according to the report 'Child Maintenance and Enforcement Commission: Cost Reductions (HC 1874)'.
Outstanding maintenance payments total around £3.7 billion, but the Commission estimates that only £1 billion of this is collectable; and costs remain high.
The Commission also faces further significant challenges in introducing its new child maintenance scheme. In particular, it will need to respond to substantial cost reductions and successfully implement a new system of charging fees to parents who choose to use the Commission's services.
The Commission has to deliver cost reductions of £117 million by 2014-15 and its plans are currently £16 million short of this target. Its cost reduction plans depend in part on a new IT system which is already late. To meet the current timetable critical testing will have to be undertaken in parallel with development work, mirroring poor practices that have contributed to the failure of a number of Government IT projects. Each month of delay will increase the Commission's costs by at least £3 million and may delay planned income from fees.
The Commission needs to deliver acceptable standards of service at a reasonable cost. The new child maintenance scheme should improve efficiency, but further changes are needed to streamline existing processes.

Find similar publications here: