ITIL Service Operation Online Subscription
Individual User
Author:

Cabinet Office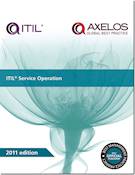 'ITIL Service Operation' introduces, explains and details delivery and control activities to achieve operational excellence on a day-to-day basis. Readers will find many of the familiar processes from the former Service Support and Service Delivery books, which have been updated where necessary.
Each of the five core titles shares a consistent structure; the various practice elements are easily navigated and extensively cross-referenced. Concepts and guidance in this publication include:
Application Management

Change Management

Operations Management

Control processes and function

Scaleable practices

Measurement and control.
An Online Subscription gives you access to the latest authoritative text. Functionality includes:
Dynamic content

Easy navigation

Bookmarking

History

Cross-linking between chapters

Pop-up glossary of terms.
ITIL 2011 Edition – The ITIL 2011 edition Online Subscription went live on 25 August and this new edition supersedes the 2007 version. If you had an active subscription on this date you will automatically receive this at no additional cost. For further details about the 2011 edition, click here. If you have any queries please contact digital@tso.co.uk.
Packages are available for those wanting to obtain electronic multi-user access across an organisation. Please email ITILOnline@tso.co.uk to discuss your requirements or contact us on +44 (0)1603 696701.
Related resources:
> ITIL Update FAQs - October 2011 (PDF - 677Kb)
> ITIL Recommended Reading Diagram (PDF - 66.5Kb)
> Service Operation Online Subscription Demo
> Download 'Service Operation' Contents and Introduction - PDF (234Kb)
> Download 'Service Operation' Publication Review.
Already read this publication? We'd appreciate your opinion: please review this publication.
Extent
N/A
Sub. No.
7003156
Size
N/A
Price

£75.00

(

£90.00

inc. VAT)
Format
Online Subscription
Frequency
Annual
Availability

Available to order