History (TSO)
Display:
Planning for the Historic Environment
Planning Policy Statement 5
Author:

Department for Communities and Local Government

Publisher:

TSO (The Stationery Office)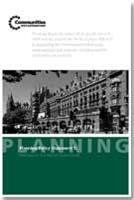 Planning Policy Statements (PPS) sets out the Government's national policies on different aspects of spatial planning in England. This document sets out planning policies for the conservation of the historic environment.
Planning has a central role to play in conserving our heritage assets and utilising the historic environment in creating sustainable places. This PPS comprises policies that will enable the Government's vision for the historic environment, as set out in the Statement on the Historic Environment for England 2010, to be implemented through the planning system.
Contents includes:
Using evidence to plan positively

Plan making policies

Development Management policies.