Pharmaceutical
Display:
Pharmacology for Health Professionals
Author:

Acosta, W. Renee

Publisher:

Lippincott Williams and Wilkins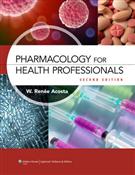 Ideal for introductory pharmacology courses, LWW's Pharmacology for the Health Professions offers a concise introduction to pharmacological concepts for students in the health professions. Now in a fully updated Second Edition, this full-color text provides a solid foundation in the basic principles of pharmacology, including the actions, indications, contradictions, and adverse effects of drug classes. A companion website offers animations and self-study materials for students and teaching resources for faculty. The 2nd edition includes fully-revised drug tables (both in print and online), and new chapters in Math Review and Complementary and Alternative Medicine. It also offers students a wealth of online resources (interactive activities, online modules, and case studies) to help them learn, study, and retain the key concepts from the text/course. Online Tutoring powered by Smarthinking-Free online tutoring, powered by Smarthinking, gives students access to expert nursing and allied health science educators whose mission, like yours, is to achieve success. Students can access live tutoring support, critiques of written work, and other valuable tools.
Find similar publications here: