Medicine & Health
Display:
OPCS Classification of Interventions and Procedures Version 4.6 (April 2011)
Volume II - Alphabetical Index
Author:

NHS Connecting for Health

Publisher:

TSO (The Stationery Office)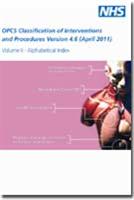 The OPCS-4 Alphabetical Index is integral to the use of OPCS-4 Classification, to assign codes to clinical data. It should be used in conjunction with Volume I - Tabular List (ISBN 9780113228669), which must be regarded as the primary coding tool. Reference must always be made to the Tabular List in order to select the code that best represents the nature of the intervention performed.
The Alphabetical Index of Surgical Eponyms includes a brief description of each intervention, principally to distinguish between those of the same name. Each Eponym also has the corresponding OPCS-4 code listed.
The Alphabetical Index of Surgical abbreviations includes the description of the abbreviation in addition to the corresponding OPCS-4 code.
The Alphabetical Index of common Surgical Suffixes can be used to rapidly identify the meaning of the more common surgical suffixes.
OPCS Version 4.6, Volume II - Alphabetical Index supersedes OPCS Version 4.5 Volume II.
Volumes I and II are available to order as a pack (ISBN 9780113228683), offering a saving of 10% against purchasing the two volumes separately, please see below for details.
70% discount on list prices is available for NHS staff. The discount code can be accessed via the NHS Connecting for Health website. You will need this code to receive your discount when ordering.

Find similar publications here: