Medicine & Health
Listening and Learning: the Ombudsman's Review of Complaint Handling by the NHS in England 2010-11
HC 1522, Tenth Report of the Health Service Commissioner for England Session 2010-12
Author:

Parliamentary and Health Service Ombudsman

Publisher:

TSO (The Stationery Office)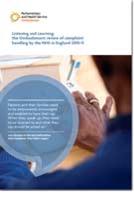 The Health Ombudsman resolved a total of 15,186 complaints about the NHS in England in 2010-11. 'Listening and Learning: the Ombudsman's Review of Complaint Handling by the NHS in England 2010-22 (HC 1522)' reports how, at a local level, the NHS is still not dealing adequately with the most straightforward matters.
As the case studies in this report illustrate, minor disputes over unanswered telephones or mix-ups over appointments can end up with the Ombudsman because of knee-jerk responses by NHS staff and poor complaint handling. While these matters may seem insignificant alongside complex clinical judgments and treatment, they contribute to a patient's overall experience of NHS care. The escalation of such small, everyday incidents represents a hidden cost, adding to the burden on clinical practitioners and taking up time for health service managers, while causing added difficulty for people struggling with illness or caring responsibilities.
Two particular themes stand out this year:
Poor communication - one of the most common reasons for complaints in the last year - can have a serious, direct impact on patients' care and can unnecessarily exclude their families from a full awareness of the patient's condition or prognosis.

Secondly, in a small but increasing number of cases, a failure to resolve disagreements between patients and their GP has led to their removal from the GP's patient list - often without the required warning or the opportunity for both sides to talk about what happened.
As GPs prepare to take on greater responsibility for commissioning patient services, this report provides an early warning that some are failing to handle even the most basic complaints appropriately.