Fixing LIBOR: Some Preliminary Findings
HC 481-I, Second Report of Session 2012-13 - Volume I: Report, Together with Formal Minutes
Author:

House of Commons - Treasury Committee

Publisher:

TSO (The Stationery Office)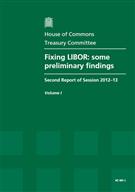 'Fixing LIBOR: Some Preliminary Findings (HC 481-I)' follows the Treasury Committee's inquiry into the Final Notice issued by the Financial Services Authority (FSA) to Barclays Bank Plc (Barclays).
Barclays was fined £59.5 million for misconduct relating to the London Interbank Offered Rate (LIBOR) and the Euro Interbank Offered Rate (EURIBOR) on 27 June, 2012.
The Committee has called for action in a number of areas, including:
higher fines for firms that fail to co-operate with regulators;

the need to examine gaps in the criminal law, and;

a much stronger governance framework at the Bank of England.
The manipulations were made possible by a prolonged period of extremely weak internal compliance and board governance at Barclays, as well as a failure of regulatory supervision. It was not spotted either by the FSA or the Bank of England at the time. It is unlikely that Barclays was the only bank attempting the manipulations.
In explaining what was wrong with the general culture at Barclays, the FSA showed some welcome evidence of a new, judgment-led regulatory approach.
Regulators should not decide the composition of boards in response to headlines and many will wonder why they did not intervene earlier to remove Mr Diamond. The Bank of England should have had adequate procedures in place for at least making a File note of conversations such as that between Mr Tucker and Mr Diamond.
The Wheatley review should now look at the role of the British Bankers' Association in LIBOR setting at that time in detail and publish its findings. The Parliamentary Commission on Banking Standards' examination of the corporate governance of systemically important financial institutions should consider how to mitigate the risk that the leadership style of a chief executive may permit a lack of effective challenge or to the firm committing strategic mistakes.

Find similar publications here: