Preparations for the London 2012 Olympic and Paralympic Games
HC 1716, Seventy-fourth Report of Session 2010-12 - Report, Together Formal Minutes, Oral and Written Evidence
Author:

House of Commons - Committee of Public Accounts

Publisher:

TSO (The Stationery Office)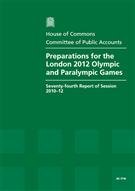 The Olympic Delivery Authority's management of its building programme has been exemplary, but due to significant increases in the cost of venue security, the likelihood of staying within the overall £9.3 billion Public Sector Funding Package is finely balanced according to the report 'Preparations for the London 2012 Olympic and Paralympic Games (HC 1716)'.
The number of security guards required in and around the venues has more than doubled, and renegotiation of the contract for venue security does not appear to have secured any price advantage.
The Funding Package does not cover the totality of the costs to the public purse of delivering the Games and their legacy, which are already heading for around £11 billion. Operational and financial risks have emerged in areas of the London Organising Committee of the Olympic and Paralympic Games' (LOCOG) responsibility. LOCOG itself now has almost no contingency left to meet further costs, even though it has done well in its revenue generation.
With only 109,000 new people regularly participating in sport against an original target (which the new Government chose not to adopt) of 1 million by March 2013, the Department for Culture, Media and Sport has got poor value for money for the £450 million spent through sporting National Governing Bodies.
It is unclear what the sporting participation legacy of the Games is intended to be. Responsibility for delivery of all legacy matters is shared across many different parts of Government. This highlights concern about the effective integration of the various legacy plans and of the accountability to the taxpayer.

Find similar publications here: