Capita and IBS: A Report on the Completed Acquisition by Capita Group plc of IBS OPENSystems plc
Author:

Competition Commission

Publisher:

TSO (The Stationery Office)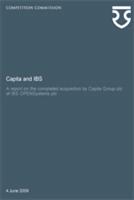 On 19 November 2008, the Office of Fair Trading, referred to the Competition Commission, for investigation and report, the completed acquisition of IBS OPENSystems plc (IBS) by Capita Group plc (Capita). This is the report of the Competition Commission's finding of that investigation.
This report outlines the fact that, prior to the acquisition, Capita and IBS overlapped in the supply of revenues and benefits (R&B) software to local authorities and the supply of social housing (SH) software to registered social landlords. This overlap of supply created a merger situation.
The report investigates two markets: the supply in the UK of R&B software and the supply in the UK of SH software. It examines the pre-merger competition, the potential for entry and expansion and the possibility of any countervailing buyer power in each relevant market.
The Competition Commission examines what would have been likely to happen in the absence of the merger against the effects on competition of the merger.
Contents:
Terms of reference and conduct of the inquiry

SOCITM data analysis

Customer questionnaires

Customer base analysis

Background to the transaction and valuation of IBS

The nature, size and requirements of customers

Capita and IBS financial information

Shares of supply

Market entry supporting evidence

Pre-merger competition

Glossary
The report concludes on the impact the merger of Capita and IBS will have on the R&B and SH markets and any effects on prices, service levels, and innovation for both new, mid-term and roll-over customers. It also considers possible remedies to address the substantial lessening of competition in the R&B market, as a result of the merger.
Competition Commission Reports
For more reports from the Competition Commission, please visit the dedicated Competition Commission Reports page within our Business & Finance area.

Find similar publications here: