Commons Select Committees
Display:
The Development Situation in Malawi
HC 118, Third Report of Session 2012-13 - Report, Together with Formal Minutes, Oral and Written Evidence
Author:

House of Commons - International Development Committee

Publisher:

TSO (The Stationery Office)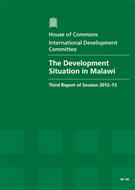 The Government should re-instate its programme of General Budget Support for Malawi, according to the report 'The Development Situation in Malawi (HC 118)'.
The Department for International Development (DFID) suspended the provision of funds directly to the Malawian exchequer in July 2011, preferring to provide its aid by other means. This decision was taken in response to the policies of the then President of Malawi, Bingu wa Mutharika, which had created an economic and political crisis.
However, following the death of President Mutharika in April this year, his successor, President Joyce Banda, has begun to reverse many of his policies. The currency has been devalued, whilst the new Government has indicated its intention to repeal many of its predecessor's authoritarian measures.
Subject to the continued progress of reforms, General Budget Support for Malawi is likely to be the most efficient way of providing aid.

Find similar publications here: