Climate Change
Charting Progress 2
An Assessment of the State of UK Seas
Author:

Department for Environment Food and Rural Affairs (Defra)

Publisher:

TSO (The Stationery Office)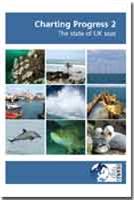 'Charting Progress 2' is a comprehensive report on the state of the UK seas. It has been prepared by the UK Marine Monitoring and Assessment community (UKMMAS) which has over 40 member organisations.
The report is based on a robust, peer-reviewed evidence base and describes progress made since the publication of Charting Progress (Defra, 2005).
It provides key findings from UK marine research and monitoring and outlines the extent to which human uses, and also pressures, such as climate change, are having an impact on the habitats and the species in our seas.
The report indicates whether the environmental protection measures put in place over many years are working; and enables policy makers, planners and the public to see what progress has been made towards achieving the UK vision of clean, healthy, safe, productive and biologically diverse oceans and seas.
Common problems identified in all eight sea areas were:
fishing pressure;

climate change and acidification;

hazardous substances;

eutrophication;

litter; and

underwater noise.
The report highlights the need for clearer criteria and targets for defining what we mean by clean, healthy, safe, productive and biologically diverse seas.
A related issue is the question of the state we want our seas to reach within a framework of sustainable development. Through its working groups, the UKMMAS community will take up the challenges of further developing the criteria and indicators for determining the state of our seas, improving the assessment methodologies and addressing the knowledge gaps at UK, European and international level.

Find similar publications here: