Exporting Out of Recession
HC 266-I, Third Report of Session 2009-10 – Volume I: Report, Together with Formal Minutes
Author:

House of Commons – Business, Innovation and Skills Committee

Publisher:

TSO (The Stationery Office)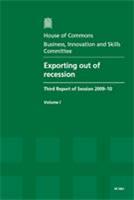 'Exporting Out of Recession (HC 266-I)' examines what should be done by Government to sustain and increase Britain's export strengths. It is essential that the Government does all it can to help to create an environment that is supportive of businesses' engagement in international trade.
The report calls on all Government departments to involve themselves in the exporting effort and not simply to leave it to UK Trade and Investment (UKTI), the Government export promotion agency. The Committee found that UKTI is, overall, a successful agency but that it has been subject to too much interference from other parts of government. Its priorities have been changed too often, leading to a lack of clarity. Treasury imposed revenue targets have also forced UKTI to offer businesses services it is able to charge for, rather than providing the services which will most benefit individual companies and the country.
The Committee was also concerned to hear worrying reports about unnecessary competition and wasteful duplication of services by the Regional Development Authorities (RDAs), whose activities often seen to conflict or overlap with work being done by UKTI. The report says that if RDAs are to become more of a benefit than a burden to national trade promotion efforts this must stop.

Find similar publications here: