The Completion and Sale of High Speed 1: Department for Transport
HC 1834, Report by the Comptroller and Auditor General, Session 2010-12
Author:

National Audit Office (NAO)

Publisher:

TSO (The Stationery Office)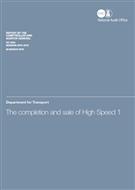 'The Completion and Sale of High Speed 1: Department for Transport (HC 1834)' reports on the sale of the "High Speed 1" rail line which was delivered within the overall funding and timescale available for the project, but at a higher cost, and later than its targets.
Construction of the line cost £6,163 million - 18% higher than the target costs. Despite missing these targets, this performance compares well with other railway projects.
The line has performed well since it opened with only 0.43% of services being delayed in 2010-11 by infrastructure incidents, such as track or signal failures. However, the number of international passengers using the line is lower than originally forecast. This has left the taxpayer exposed to the risk of lower-than-expected passenger income which had been expected to repay the project debt.
London and Continental Railways Ltd (LCR), which is owned by the Department, is in partnership with private sector developers at King's Cross and Stratford where development is under way. The original business case in 1998 was based on benefits to transport users from faster journey times and increased rail capacity and regeneration benefits.
The Department has not reassessed the costs and benefits since 2001, despite assurances to the Public Accounts Committee that it would do so. Restructuring LCR before the sale removed the open-ended taxpayer support, and the line was presented as an attractive opportunity for investors.
The Department handled the sale well and the winning bid of £2,048 million was higher than expected.

Find similar publications here: